An end-to-end guide for configuring cohorts, outcomes, and pipelines for your direct mail campaigns using Faraday
Faraday can be used for your direct mail campaigns by creating targeted cohorts, or groups of people, based on attributes from the Faraday Identity Graph, such as their ability to receive mail via the USPS. In this guide, we'll walk through how to create a cohort for direct mail and use it when deploying a pipeline.
Table of Contents
Creating the cohort
To create a new cohort:
Navigate to the cohorts console via the menu bar on the left-hand side and click + New Cohort in the upper left.

Enter a unique name for the cohort, such as "Direct mail leads," and click Create cohort.

Optionally, select an event stream for the cohort. In this specific direct mail use case, we're going to skip this step. For more info on this, check out our Cohorts article.

Next, find and click the Add a trait button at the bottom, which is the most important part in designating that this cohort of people is able to receive your direct mail.

In the Add a trait popup, we're going to find & select the following traits:




Postal code/ZIP: Zip codes entered here indicate the geographic locations we want to target with this direct mailer, and choosing "equals one of" allows us to include several.

Currently vacant: To ensure that you don't send mail to houses that aren't lived in. Select false and missing, as we want to exclude vacant residences.

USPS-indicated in service: To ensure that your mailer targets can receive mail from the USPS. Select true.

Record quality code: To ensure that the residence can receive mail at all. Choose the option to "select exact values from list" to select mailable.

💡 When applicable, Missing is often useful to select in scenarios where it makes more sense to play it safe by selecting it. In the case of Currently vacant as a trait, we select Missing above because we'd rather not spend time & resources sending mail to a house that we aren't totally sure is lived in.

Once finished, click Save changes. The cohort will begin building and will display with a Calculating message instead of a cohort population time series.
Creating the pipeline
While our Direct mail leads cohort is building (if we select it in a pipeline, the pipeline will build once the cohort is ready), we're ready to create a pipeline and deploy it via CSV, which will let us plug our direct mail cohort right into our preferred mailer platform. For a more detailed look at creating a pipeline, check out How to create a pipeline.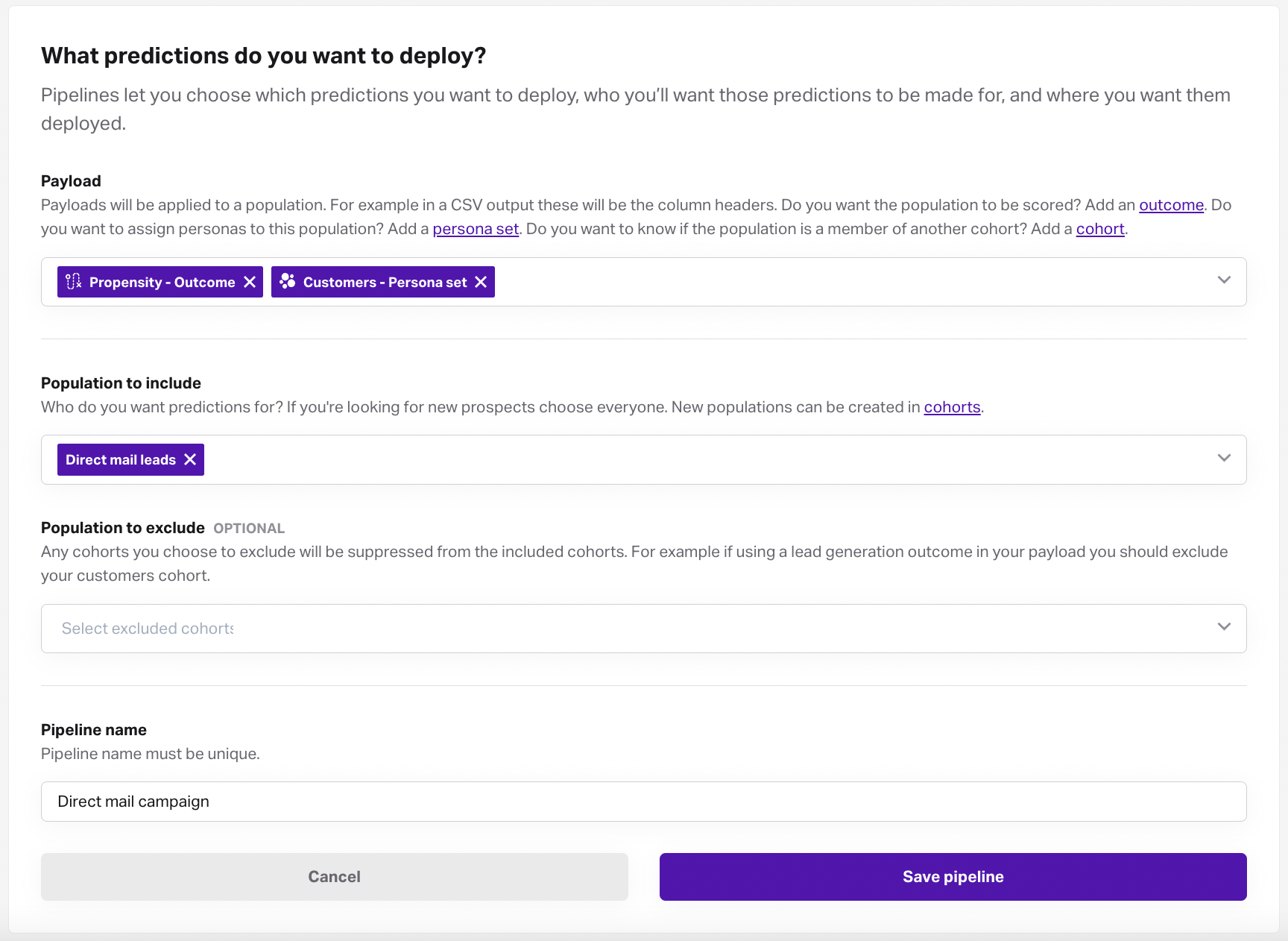 Navigate to Pipelines, and click + New Pipeline in the top right to create a new pipeline.

For our payload, we'll select:

Our propensity (likely to buy) outcome, as we'd like to target the top 20% most likely to buy people in this payload so that we're saving resources by not sending our direct mailer to people who aren't likely to buy. We'll be able to choose this filter on step 7.

We're also going to apply our customer personas to the people in this pipeline so that we can tailor creative & copy to their wants & needs.

In population to include, we'll grab the cohort we just created, Direct mail leads, as the we're only interested in the group of people we've selected: our leads who are able to receive direct mail.

Enter a unique name, and click Save pipeline. The pipeline will begin building, as indicated by a loading bar. You'll receive an email when the pipeline has finished building.

Once the pipeline is complete, head to the Deployment section inside the pipeline, and select + Add under Hosted CSV.

We're presented with the choice of Hashed, Identified, and Aggregated as options for our predictions. Since we're creating a direct mail pipeline, select Identified.

In Individual identification options, select One row per residence (address). Using residence as the identifier, the individual that appears on the row is determined by (in order from top to bottom, i.e. if two people in the household have the same max score, the tiebreaker is determined by head of household status):

Max score

Head of household

Max age

Alphabetical first name

Next, in Advanced, expand the Limit section.

Select the propensity outcome we included in the pipeline, and choose Between (1-100%), then 81%-100% in the following field. With this filter, we can eliminate the need to look at any leads that aren't likely to buy.

🗒️ Filtering a pipeline's deployment by a percentile is currently only available when an outcome is selected.

Finally, click Finish to complete the deployment.

Once your deployment is complete, you can download the CSV via the link below.